Honourable, trustworthy, respectful, reliable, loyal… possibly not words you associate with an estate agent, but then I am nothing like other estate agents. With over 15 years' experience in the South London property business, I know what it takes to provide a tailored, personal service that cuts the stress and time wasting. I am proud to say that I am the New Cross estate agent whose clients are always happy to recommend to their friends.
I offer a personalised property sales service that will enable you to sell your property for the best possible price and offer a level of service that you won't find with other New Cross estate agents. And as I'm the owner, I am the single point of contact throughout.
You get to deal directly with me, always
Less stress – I'm always contactable
I'll save you time – one point of contact handling everything
Competitively priced fees – no board of directors and lower overheads mean a fairer price for you
Do you know what this is? This is a significant piece of history in New Cross… intrigued? Give me a call and I'll tell you the complete story (only because I would like to tell you, not for any other reason I promise!)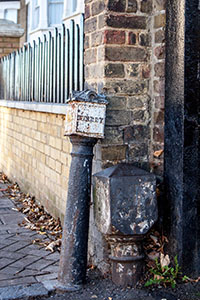 Advice on how to market and sell your property
Negotiating and liaising on your behalf
Organising surveys
Dealing with mortgage companies
Liaising with solicitors
Progressing the sale, right through to Completion.
People choose to use my property services because I really listen to my clients' needs. I won't waste your valuable time with unsuitable viewings. In fact, my aim is to save you time, as I can oversee the entire property transaction.
Request  a valuation with Warren Kerr, South East London's premier property expert
The ultimate New Cross estate agent for buying property
I am a South East London property market expert. If you're looking to buy property in the New Cross area, I have the local knowledge and years of experience to call upon and am able to anticipate problems before they arise.
My aim is to take away the stress of buying a property in the New Cross area. I can assure you that you will be well looked after during the buying process, from the moment your offer is accepted up until you take possession of the keys to your new home.
I have helped clients find their ideal properties in the following areas:
Telegraph Hill
New Cross
Nunhead
Peckham
Brockley
St Johns
Deptford
Greenwich
Rotherhithe
Bermondsey
Isle of Dogs
But that's not to say these are the only locations I work within, I have helped clients find properties as far away as Bristol.
The New Cross estate agent with a bespoke search package
Looking for a property can become a full-time job. And that's where my Property Search Service comes in. I offer a bespoke 'Search to Completion' package that I believe other New Cross estate agents will struggle to match. It's the ideal solution for time-poor property hunters looking for their perfect South East London property.
I know South East London like the back of my hand and am passionate about the area. I have lived in the area since 1997 and have over 15 years' experience working as a New Cross estate agent. Read more about me here.
Once we've found your ideal property, I can handle all the negotiations on your behalf, deal with the vendor or their agent, liaise with solicitors and surveyors and even put you in touch with mortgage advisers. I can be involved as little or as much as you'd like me to be. And you will always deal with me, as your sole point of contact.
For a truly bespoke property finding service in South East London, call me today – I'd love to help
The New Cross estate agent that customers recommend
So whether you're selling or buying in New Cross, elsewhere in South East London or even beyond, let me handle the entire process for you. Not only do I take the stress, pressure and hassles away, I offer great value for money compared to other New Cross estate agents – so you can save much-needed funds to spend on your new property. And I'm very proud of the fact that all my instructions come from personal recommendations: there's no greater testimony to a fantastic personal service.
Cost-effective, time-saving, hassle-free, personalised, knowledgeable… if this sounds like your kind of New Cross estate agent, give me a call on 020 7358 1188 or email me at